Accurate Road Charge & Taxes
Did you know our roads, highways, and bridges are paid by a tax collected on gasoline?  When you bought gasoline, you paid the tax.  There was no way around it.  Today, high MPG cars greatly reduce the amount of taxes collected maintaining these roads and bridges. Other cars like electric cars pay $0 taxes.  
Gov. Jerry Brown said earlier this month in rolling out his 2015 budget, "We're going to have to find another way to finance the upkeep of the roads," noting that California has a $59 billion backlog of maintenance needs on state highways and bridges.
 A Road Charge is now being tested to address this problem.  One option is to charge by time… somehow tracking engine time, and then charge a certain amount, meaning that warming your car in the morning, assisting with a charge & jump start, idling in traffic and using a "Drive-Thru" all count against you and raise your taxes. It's not accurate and would encourage some drivers to "speed" attempting to shorten trip time.  The other option is to track someone by distance traveled.
But what about people who intend to cheat the system?
Odometer tampering is a serious crime and consumer fraud issue that is on the rise. In 2002, the National Highway Traffic Safety Administration (NHTSA), a government office that is part of the U.S. Department of Transportation, determined that more than 450,000 vehicles are sold each year with false odometer readings, the highest number of fraud cases is in CALIFORNIA, followed by Idaho, Nevada, Massachusetts, New York, Georgia and Texas.

It is not even possible to retrieve this information for vehicles built before 1984 because there is no onboard computer or ECU.
We need to collect the billions in revenue our roads and bridges desperately need and stop motivating dishonesty by rewarding them with lower insurance rates, higher resale value AND soon avoiding the road charge!
DON'T CHEAT OUR HIGHWAYS AND BRIDGES!
Please read Odometer Fraud Prevention to see how Kenometer ensures every dollar is collected!
Update October 6 2020
California Gov. Gavin Newsom has thwarted an effort approved by state lawmakers that was intended to fast-track road work.
The Legislature overwhelmingly approved a bill to sell $5 billion in bonds over two years to boost the state's road work program. Assembly lawmakers approved the bill on a 58-17 vote. The Senate voted 28-10 in favor of the bill, SB1351.
The legislation called for creating a subaccount in the State Highway Operation and Protection Program. The program is used to manage a four-year, $18 billion list of repair and maintenance projects.
A newly created Transportation Improvement Fee would use existing transportation improvement fee revenues to pay for bonds. The funds come from vehicle registration renewals.
Governor rejects plan!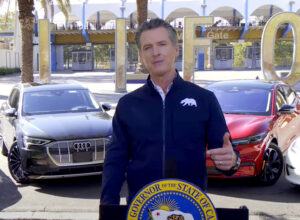 Gov. Newsom vetoed the Democratic-led SB1351. The Democratic governor said the bill is unnecessary.