Odometer Fraud Prevention
Odometer tampering is a serious crime and consumer fraud issue that is on the rise. In 2002, the National Highway Traffic Safety Administration (NHTSA), a government office that is part of the U.S. Department of Transportation, determined that more than 450,000 vehicles are sold each year with false odometer readings, draining American car buyers out of more than $1 billion annually. The increased cost consumers pay to purchase passenger vehicles with odometer rollback of $1,056 million per year makes odometer fraud one of the top crimes against property in the United States. www.nhtsa.gov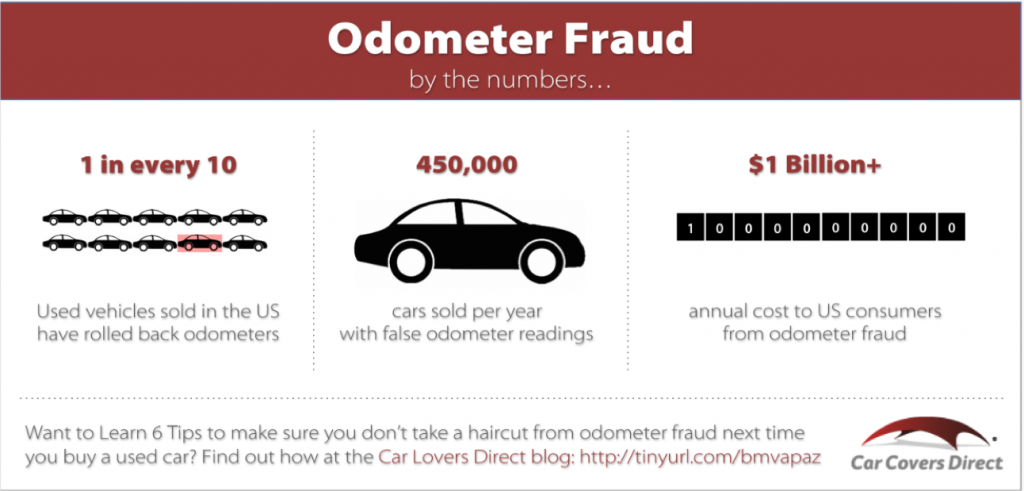 According to CarFax, the number of cases of odometer rollbacks is rising each year since the fraud is not complicated to perpetrate, and because many consumers are unaware that this practice exists, do not bother checking mileage records, said Chris Basso, a used car expert for Carfax, the Centreville, Va.-based company which provides vehicle history reports. At least 1.5 million cars have incorrect mileage and a minimum of another 200,000 cars are tampered with each year. Despite increased safety measures and increasingly stringent laws, consumers still fall victim to odometer fraud daily. Due to a lack of consumer awareness, consumers think that the oldest car fraud in the book couldn't possibly happen to them in today's era with safer vehicles and digital odometers. That was the general idea when digital odometers were created to replace their mechanical forbearers, but the sad fact is that with odometer correction software readily available via the Internet, odometer fraud is easier than ever, and harder to detect. CarFax.com 
The highest number of fraud cases is in CALIFORNIA, followed by Idaho, Nevada, Massachusetts, New York, Georgia and Texas. Since 38 million used cars were sold in 2015, "it provides a lot of opportunity for consumers to get ripped off and for someone get away with a lot of your money," Basso said. "… through the years, it has actually become simpler for criminals to operate: it's easier than ever since criminals can rapidly purchase a tool which plugs into a car's computer located in the port under the steering wheel and change the mileage reading in seconds. MainStreet.com
Consumers lose over $1 billion each year due to odometer fraud, Jack Gillis author of The Car Book, and the Consumer Federation of American estimates that 1 in 10 used vehicles (10%) have had their odometers rolled back!
Odometer disconnection raises a completely different issue.  When someone disconnects the Odometer, miles are not counted.  People do this for a number of reasons including preserving the retail value of their vehicle to reducing insurance rates by reporting less mileage during a policy period.  As noted above, the Odometer Fraud is very common.  If we plan to rely upon the Odometer to collect the billions in revenue our roads and bridges desperately need, we need to stop motivating those who want to cheat the system by rewarding them with not only lower insurance rates and higher resale value AND NOW a lower road charge!
WE NEED TO STOP ODOMETER FRAUD NOW!
Kenometer divides miles traveled by the total number of engine revolutions producing "Average Revolutions per Mile", a new metric used for quick determination of the abuse an engine has endured. The Odometer value is checked multiple times a second and if the Odometer value reported is lower than a previous value, an alert is raised. If engine revolutions are detected and the Odometer value is not changing, the Kenometer uses special algorithms and other sensors to determine if the vehicle is in motion raising an alert for odometer malfunction or disconnect. The moment odometer tampering is detected, mileage is still recorded using GPS. GPS can also be used as a replacement for the Odometer, however it is not as accurate, and detecting engine revolutions is still critical to validate GPS movement was not from towing. The Kenometer works for all vehicles including those built before 1984 by gathering distance and engine revolutions without requiring an OBD port.
Being able to catch people who do it is one thing, discouraging them with an unbeatable system that alerts if they tamper with the odometer, but still loses no data is even better.